About the artist
Since the 1970's Mr Greene has been producing drawings, doodles, paintings, prints and other questionable gubins that he passes off as art. Now in his twenty-ninth year on planet earth he has collected a body of work that you can see on this website.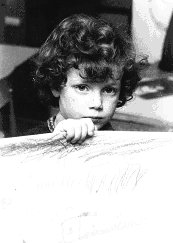 He was trained in art and design at Highlands College in Jersey and then did a B.A.Hons in illustration in Bristol. Since leaving Bristol in the summer of "99" he has returned to his native island of Jersey where he has continued painting and exhibiting his artwork.
When looking at Mr Greene's work we see lots of characters engaged in the pursuits of social enjoyment, such as partaking in the elixir of a fine drop or wandering solitary through barren landscapes such as deserts. Other characters we meet in these pictures are often seen playing or listening to music. Music can be seen to influence both the subject and the artist. The music that has influenced Mr Greene is broad ranged from Punk, Ska, Kleizmer, Reggae, and even some old Irish ditties.
On the subject of Ireland, Mr Greene finds it an enriching source of inspiration, as he is 50% of the Irish stock. He also finds the great Irish writers a great visual and mental stimulant.
Please feel free to contact the artist.